Shaelynn and her husband traveled to Colorado Springs for a babymoon getaway and booked their maternity photos during their stay here. She knew immediately that she wanted to do her photo session at Garden of the Gods. As a Colorado Springs maternity photographer this is one of my favorite places too. This particular spot at Garden of the Gods is a new favorite of mine. It requires a little hike but it is so worth it. The mountain views are stunning and it is a quiet spot that we almost always have to ourselves. My clients always ask how I find the locations I use. The answer is by getting out there and exploring! I like to take my daughter with me and try new parking lots. We'll hike for a half mile and see where it takes us. This is how I've found many of my locations.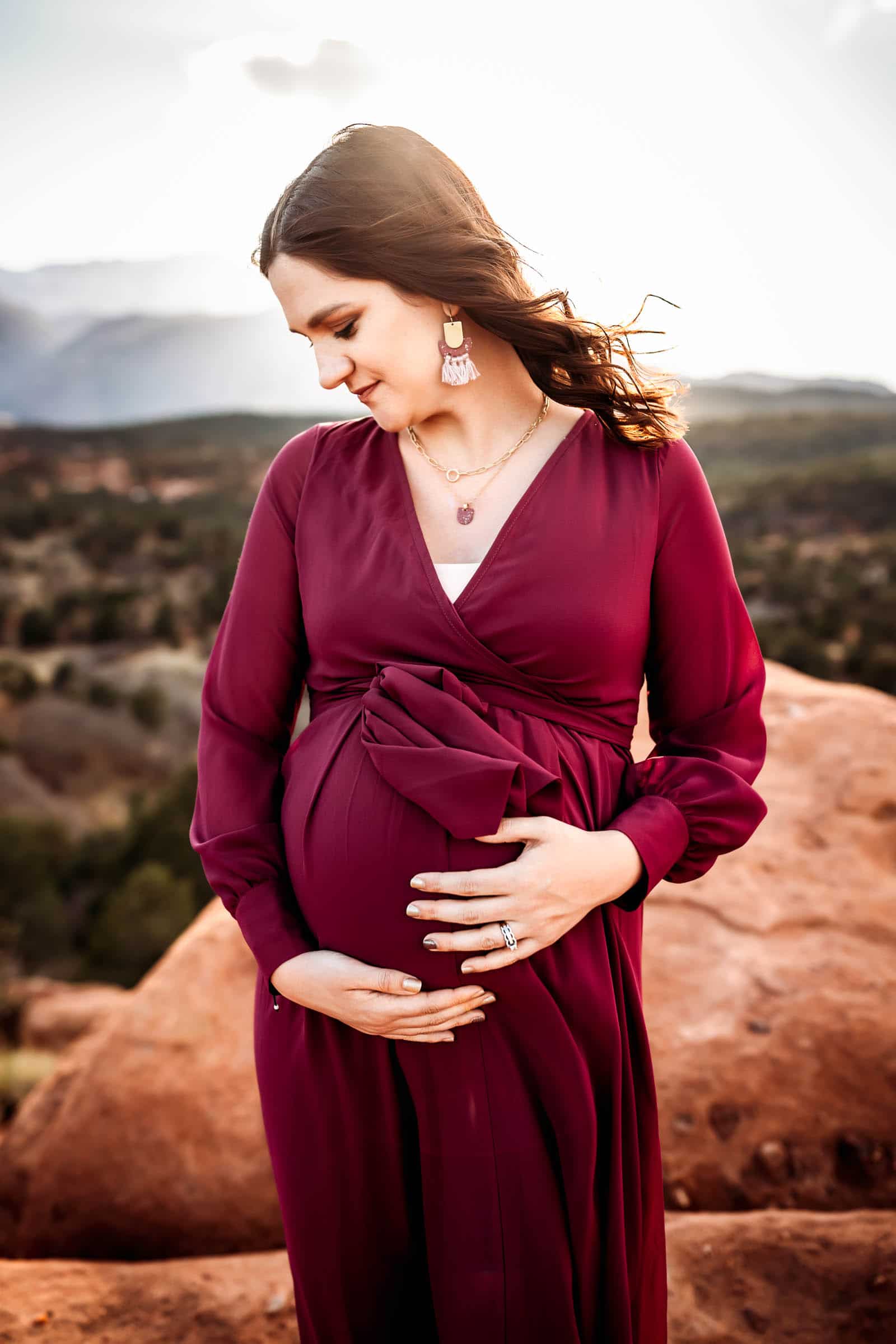 I love the dress Shaelynn chose for her session. The maroon red really compliments the red rocks. The red from the dress and the rust from the rocks complement each other so well because they are analogous colors. Analogous colors are colors next to each other on the color wheel. I talk about this a little more in this post about choosing outfits for your family photo session. Another analogous color that is stunning at Garden of the Gods is yellow. Her dress also had beautiful movement and I love the images where it is blowing in the wind. The sheer fabric also lets a little light shine through in some of the photos and it was stunning.
I love capturing a couples love during a maternity session. Shaelynn and her husband KC were so cute together. I hope that they look back at these photos years from now and see how happy and excited they were to meet this sweet baby boy.
Book your own Colorado Springs Maternity Photographer
If you feel like we are a good fit you can check my availability and book your session online through my online booking calendar. You can view more information on my pricing page or view my maternity portfolio here.
The best time to book your maternity photos is between 28- 32 weeks. This way you'll have a nice size baby bump to show off in your photos but you'll also still be feeling well enough to be comfortable during your photo session.
Below are more blog posts showcasing my maternity photography work:
Colorado Springs Maternity Photographer | Spring Pregnancy Photos
Snowy Mountain Maternity Photos in Colorado Springs
Garden of the Gods Maternity Photos | Kellie & Martin
Alysia Loerch is a Colorado Springs maternity photographer specializing in outdoor sunset sessions.